APHON Self-Care Resources
Time Out Tuesdays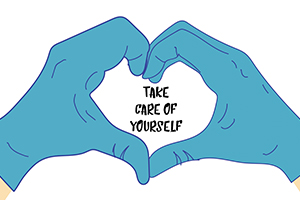 Take time out each Tuesday for tips and tricks to taking care of yourself during tough times! New 5-15 minute videos are added monthly that focus on how to take care of yourself: mind, body & spirit. 
Self-Care & Resiliency Resources
We know the effect that stress has on our immune system and how that, in turn, affects our ability to be physically resilient. We must also tend to our emotional resiliency and commit to caring for our whole selves. Please take the time to care for yourself during this time.
Here are some easy ways to do so:
Please consider engaging in the APHON self-care member community to dialogue with others about personal resilience during and beyond the COVID-19 pandemic. APHON members can sign up to join any open community by clicking on the link for Specialty Discussion Groups under the My Account navigation on the APHON website.
Engaging in mindfulness and meditative practices can redirect fear and anxiety to gratitude and peace. Digital resources include the HeartMath Institute, Well-being Index, and Calm.
Headspace is a terrific app featuring guided meditations, animations, articles, and videos. They want all users to think of them as your mind's best friends. Headspace helps you create life-changing habits to support your mental health and find a healthier, happier you through science-backed meditation and mindfulness tools.
Do not hesitate to reach out to your institution's Employee Assistance Program (EAP), which can offer another level of support. Many counselors and therapists have a virtual visit option, so review your health plan to see if these services are included.
Ten Percent Happier is an app that also offers mindful meditation.
Insight Timer is a diverse platform with 45,000 free guided meditations, bringing together meditation and mindfulness teachers, psychologists, and other mental health experts worldwide.
The Moodfit app provides tools and insight to improve the fitness of your mind. Tools include mood tracking, gratitude journal, mindfulness meditation, breathing exercises, etc. Thanks to a grant from The American Nurses Foundation, nurses have access to the full premium version of Moodfit at NO cost.
Happy app has partnered with the American Nurses Foundation to bring relief and support to nurses. An easy-to-use smartphone app connects the Happy Support Giver team to nurses in need of emotional support. Nurses have 24/7, on-demand access to this service and can speak one-on-one with a Support Giver team member. FREE!
Nursing Centered, Sigma's online resource center, combines articles, member stories, videos, webinars, and podcasts to create an engaging experience. This mixed-media platform shares stories and nursing information from Sigma nurses and chapters worldwide, from their view, in their voices.
Building Resiliency
Books
Daring Greatly, Brené Brown
Braving the Wilderness, Brené Brown
You are a Badass, Jen Sincero
Finding Meaning, David Kessler
Burnout, Amelia Nagoski, and Emily Nagoski
The Bullet Journal Method, Ryder Carroll
One Word, Dan Britton, Jimmy Page, and Jon Gordon
The Four Agreements, Don Miguel Ruiz
Why won't you Apologize, Harriet Lerner
Untamed, Glennon Doyle
Podcasts