Global Outreach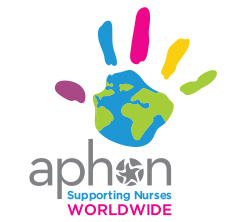 APHON is committed to providing resources and education to pediatric hematology/oncology nurses globally. Each year 400,000 children and adolescents are diagnosed with cancer around the world1. Eighty percent of these children live in low- and middle-income countries (L&MIC), with an average survival of 20%2. This is in contrast to survival in high-income countries of above 80%2. Nurses in limited-resource settings often lack access to essential pediatric oncology education and resources3,4. Through our Global Outreach initiative, we are supporting the needs of nurses caring for children and adolescents with cancer, regardless of where they live in the world. We believe that by equipping pediatric oncology nurses with the knowledge and a professional network, we will help improve childhood cancer outcomes influenced by nursing care.
This APHON Global initiative, stewarded by the Global Outreach Committee increases access to pediatric oncology nursing education and resources through providing:
APHON Chemotherapy/Biotherapy Provider courses internationally
Two scholarships for nurses from low- or middle-income countries to attend the APHON Annual Conference & Exhibit each year
Opportunities for APHON members to support scholarships and international initiatives for nurses from L&MIC
A drawing for APHON educational resources (coming soon)
Chemotherapy/Biotherapy Provider & Instructor Programs
APHON's Chemotherapy/Biotherapy Provider Program has become the standard pediatric oncology nursing certification-based course in the United States. We recently expanded this course to Spanish for nurses practicing in Latin America.
Current Events
Spanish Chemotherapy/Biotherapy Provider and Instructor courses are now being conducted. As we scale-up this initiative over the next two years, we are planning institution-led Provider courses with 3-5 hospitals in Mexico, Central, and South America. Our goal is to open the course to all interested instructors and institutions by 2021/2022.
Project History
In 2015, a needs assessment of 39 nurses from 14 Latin American countries confirmed a need for and interest in the chemotherapy/biotherapy course. APHON's International Taskforce adapted course content with help from educators in Chile and Mexico. APHON partnered with SJCRH to translate the course to Spanish and conducted four pilots with 203 nurses from Mexico, Central, and South America between April 2016 and May 2017.
From February 2017 to September 2018, 17 Spanish instructors were trained through two instructor courses. The first was held in February 2017 in English for bi-lingual nurses and the second course was held in Spanish in September 2019. These instructors have helped teach several of the Spanish courses.
In 2019, we conducted courses at Hospital Infantil Teleton de Oncologia (HITO) in Mexico and Hospital Luis Calvo Mackenna in Chile. 108 nurses from 10 countries participated in the two courses.
APHON would like to thank St. Jude Children's Research Hospital for its collaboration and ongoing support of this project, and the Spanish Chemotherapy/Biotherapy Subcommittee for your contribution in establishing this course.
Annual Conference International Nurse Scholarships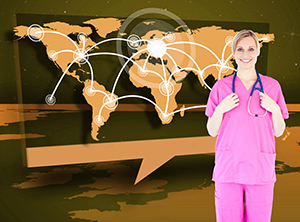 The APHON International Nurse Scholarship provides an opportunity for two pediatric hematology/oncology nurses from low- or middle-income countries to attend the APHON Annual Conference & Exhibit each year. The 44th Annual Conference will be held September 3-5, 2020 at the New York Hilton Midtown in New York, New York.
Global Outreach Gifts
One way for APHON members to get involved in global initiatives is by supporting a "global outreach gift". APHON welcomes financial contributions to help our organization and its members provide support, resources, and education to pediatric hematology/oncology nurses in low- and middle-income countries.
Supporting APHON's global nursing mission can be done in one of the following tax-deductible ways:

General Restricted Donation
Financial donation to support APHON's general global nursing efforts.
Financial donation to support the APHON International Chemotherapy/Biotherapy Provider program.
Financial donation to support APHON's annual International Nurse Scholarships.
Sponsor an APHON membership for a nurse from a low- or middle- income country.
Education Resource Bundle Drawing
APHON is the leading producer of pediatric hematology/oncology nursing education resources in English and Spanish. Nurses from low- or middle-income countries can apply for the opportunity to win vital nursing educational resources from APHON. All resources provide best practices in the care of children, adolescents, and young adults with cancer or blood disorders. Three winners will be selected by a random drawing annually.
Global Ambassadors Program
The APHON Global Ambassadors Program will highlight members engaged in service to advance global child health. Whether volunteering at a local hospital while stationed in Azerbaijan, conducting a chemotherapy/biotherapy workshop in Kenya, donating APHON resources to a pediatric oncology unit in the Philippines, or teaching from the APHON Core Curriculum in your local hospital abroad: you are APHON Global Ambassadors and we want to celebrate the work you do!
References
Ward, Z. J., Yeh, J. M., Bhakta, N., Frazier, A. L., & Atun, R. (2019). Estimating the total incidence of global childhood cancer: a simulation-based analysis. The Lancet Oncology, 20, e483-e493.Kjlk
World Health Organization [WHO]. (2018). Cancer in children. Retrieved from https://www.who.int/news-room/fact-sheets/detail/cancer-in-children.
Challinor, J. M., Hollis, R., Freidank, C., & Verhoeven, C. (2014). Educational Needs and Strategies of Pediatric Oncology Nurses in Low-and Middle-Income Countries: An International Society of Paediatric Oncology Pediatric Oncology in Developing Countries Nursing Working Group Initiative. Cancer Nursing, 37(4), E36-E47.
Day, S., Challinor, J., Hollis, R., Abramovitz, L., Hanaratri, Y., & Punjwani, R. (2015). Paediatric Oncology nursing care in low-and middle-income countries: A need for baseline standards. Cancer Control, 111.