Provider Program
"The APHON Chemotherapy/Biotherapy Provider Program is the only program of its kind and is now a criterion of the U.S News and World Report Best Children's Hospital. This program is designed to provide nurses with information about how to safely administer chemotherapy and biotherapy to children and adolescents with cancer." (https://health.usnews.com/media/best-hospitals/BCH_methodology_2020-21.pdf)
What Do Program Participants Receive?
Participants receive instruction on:
The difference between adult and pediatric cancers
Clinical trials
Chemotherapy and biotherapy agents and administration
Side effects
Toxicity and symptom management
Psychosocial issues
Legal and ethical issues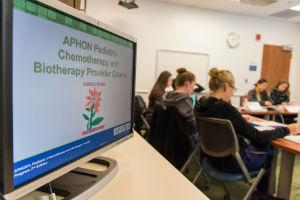 Participants also receive The Pediatric Chemotherapy and Biotherapy Curriculum, Fourth Edition—the only comprehensive curriculum pertaining to pediatric chemotherapy and biotherapy administration.
Following course attendance and successful completion of an exam, participants receive an APHON pediatric chemotherapy and biotherapy provider card indicating they have met the requirements of the program. The 2-day course offers 14 CNE contact hours. Pediatric Chemotherapy/Biotherapy Providers must renew their status. The first renewal will occur within 2 years of attending a pediatric chemotherapy/biotherapy provider course and achieving a passing score on the post-test and will then occur every 3 years thereafter through the Provider Renewal Program.
Please note: The card indicates the individual has the knowledge required to administer pediatric chemotherapy and biotherapy but does not ensure clinical competence. Resources for measurement of clinical competence are provided in the curriculum.
Program Policies
A Pediatric Chemotherapy and Biotherapy Provider is a registered nurse who has successfully completed the APHON Pediatric Chemotherapy and Biotherapy Provider Course.
Pediatric Chemotherapy and Biotherapy Provider status is maintained by renewal every three (3) years.
Renewal is obtained by successfully completing an exam.
Annual education specific to the administration of chemotherapy and biotherapy and skills validation by employers is recommended.
Provider courses are taught by APHON instructors throughout the U.S. If you're interested in attending a course, find more information below.
Disclaimer: APHON does not participate in the planning or execution of the provider courses. See instructor contact information for course details.
If you would like to host a course at your facility, contact an APHON instructor in your area.
Accreditation and Disclaimer
Pharmacology Content
This program may be also recognized for the amount of 2.5 hours of pharmacology content indicated as calculated by the APHON Pediatric Chemotherapy/Biotherapy Provider Program Committee. APHON does not award pharmacology credit. APHON recommends that attendees retain a copy of the provider course brochure for supportive documentation to submit to your state's nursing board. Please note that you may not apply CNE toward pharmacology content. The content may be applied in only one area, nursing contact hours or pharmacology content.
ONCC Individual Learning Needs Assessment (ILNA)
The program content has been reviewed by the Oncology Nursing Certification Corporation (ONCC) and is acceptable for recertification points.
CPHON® Blueprint
Treatment Modalities
Symptom Management
Psychosocial
Survivorship
Disease-Related Biology
Professional
BMTCN® Blueprint
Survivorship
Basic Concepts
Professional
Post-Transplant Issues
Preparative Regimens
ONCC review is only for designating content to be used for recertification points and is not for CNE accreditation. CNE programs must be formally approved for contact hours by an acceptable accreditor/approver of nursing CE to be used for recertification by ONCC. If the CNE provider fails to obtain formal approval to award contact hours by an acceptable accrediting/approval body, no information related to ONCC recertification may be used in relation to the program. Have questions regarding the CPHON® ILNA Coding? Please visit the ONCC website or call them toll-free at 877.769.ONCC (US and Canada only).
Accreditation
The Association of Pediatric Hematology/Oncology Nurses (APHON) is accredited as a provider of nursing continuing professional development by the American Nurses Credentialing Center's Commission on Accreditation.
Disclosure
A staff member, volunteer, or family member who has an affiliation with an ineligible company must declare that relationship in advance of involvement with an educational activity that could be used as a forum to promote the interest of that company and its products. Disclosures will be made available prior to each individual course.