Genomes
Connecting the Dots: Genomes for Nurses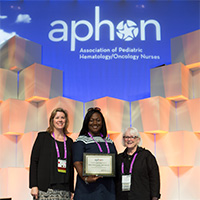 Project Leaders: Stacy Hines-Dowell, DNP AGN-BC FNP-BC
Project Team Members: Belinda Mandrell, PhD RN CPNP; Kim E. Nichols, MD
Institution: St. Jude Children's Research Hospital | Memphis, Tennessee
Grant Type: APHON Evidence-Based Practice Grant
Year Awarded: 2017
---
Abstract
Statement of the Problem
St. Jude Children's Research Hospital (SJCRH) provides care for more than 7,800 children annually. Over 500 children are diagnosed with a new oncologic condition and are admitted for treatment soon after learning of the diagnosis. Genomic sequencing is commonly employed to provide the most precise tumor diagnosis and inform the development of a customized treatment plan. As might be expected, the complexities of genomic sequencing are generally not fully comprehensible when families consent to its use. Therefore, it is imperative that frontline caregivers understand the concepts behind genomic sequencing and address questions and concerns articulated by family members as their children undergo genomic testing and subsequent cancer treatment.
The rapidly evolving technologies surrounding genomic sequencing can be daunting for nurses, nurse practitioners (NPs), and physician assistants (PAs) who strive to utilize the information to provide care and at the same time explain genomic concepts and results to families. We are in a unique position to bridge the knowledge gap and pave the way for the development and implementation of novel educational modules and communication tools to facilitate communication between nurses/NPs/PAs and families around the complex topic of genomics.
The purpose of this study, Connecting the Dots: Genomes for Nurses (G4N), is to develop a novel educational curriculum on genetics/genomics for registered nurses (RNs), NPs, and PAs that will: 1) increase knowledge of basic genetic and genomic concepts; and 2) improve RN/NP/PA ability to communicate these concepts to patients and their families.
Objective 1: We plan to recruit nurses/NP/PA participants for focus groups; use pre-tests to identify baseline knowledge of genetics and genomics; use questionnaires for feedback. From the information collected an education module will be developed and piloted. We will finalize the educational module and distribute a pocket guide to RNs, NPs, and PAs.
Objective 2: Educational materials will be created to improve the capacity of nurses, NPs, and PAs to inform family members about the processes involved in, purposes for utilizing, and implications of genomic sequencing.
A "storyboard" intervention will be created for the nurses, NPs, and PAs to use to explain genetic and genomic sequencing concepts and inheritance patterns.
Analysis of the pre-/post-test findings in the proposed curriculum development for the nurse and family educational modules will be done via paired t-tests for each didactic concept.