APHON Pediatric Chemotherapy and Biotherapy Instructor Course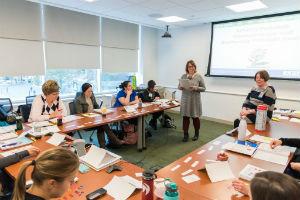 The APHON Pediatric Chemotherapy and Biotherapy Instructor Course is designed for any nurse who has completed the provider course and meets the qualifications to be trained to teach the course.
This course provides general instruction in adult education, guidance in the planning of lectures based on the APHON program content, and instruction in administering the provider exam. Successful completion allows nurses to return to their institutions as recognized APHON Pediatric Chemotherapy and Biotherapy Instructors who are able to provide ongoing instruction and education to other registered nurses.
The next opportunity to become a Pediatric Chemotherapy and Biotherapy Instructor will be at the upcoming APHON Annual Conference and Exhibit.
Instructor Resources
All resources for current instructors are available in the APHON Member Connection under the Instructor community. This includes course rosters, teaching tools, and instructor slides.
Objectives
Train to competently share your knowledge of best practices for administering chemotherapy and biotherapy.
Develop a new professional skill and become an APHON Instructor.
Contribute to the field of pediatric hematology/oncology nursing.
Eligibility Requirements
The Instructor Course is open to nurses who:
is a Licensed registered nurse
is a current APHON Pediatric Chemotherapy and Biotherapy Provider
is an APHON member*
has two years of clinical experience
is a current Certified Pediatric Oncology Nurse (CPON®) or Certified Pediatric Hematology/Oncology Nurse (CPHON®)
has a bachelor's degree or higher (preferred)
*If you are not currently an APHON member, you may join and register at the same time.
Course Materials
Instructors participating in the course will receive:
Access to the PowerPoint slides and notes through the Instructors online community
Exam administration instructions
APHON Pediatric Chemotherapy/Biotherapy Instructor Card
Continuing Education
Participants will be awarded 6.25 CNEs upon completion of the entire Instructor Course, post-test and evaluation.
Accreditation and Disclaimers
ONCC Official Statement and Disclaimer
The program content has been reviewed by the Oncology Nursing Certification Corporation (ONCC) and is acceptable for recertification points.
CPHON® Individual Learning Needs Assessment (ILNA) Coding:
BMTCN® Individual Learning Needs Assessment (ILNA) Coding:
ONCC review is only for designating content to be used for recertification points and is not for CNE accreditation. CNE programs must be formally approved for contact hours by an acceptable accreditor/approver of nursing CE to be used for recertification by ONCC. If the CNE provider fails to obtain formal approval to award contact hours by an acceptable accrediting/approval body, no information related to ONCC recertification may be used in relation to the program.
Accreditation Statement
The Association of Pediatric Hematology/Oncology Nurses (APHON) is accredited as a provider of continuing nursing education by the American Nurses Credentialing Center's Commission on Accreditation.
Disclosure
A staff member, volunteer (faculty), or their family member who has an affiliation with a commercial company must declare that relationship in advance of involvement with an education activity that could be used as a forum to promote the interest of that company and its products. If there are any disclosures to report, they will be indicated on Annual Conference marketing materials.