Cynthia Stutzer Palliative Care Memorial Scholarship
To Attend The Annual Assembly Presented by the American Academy of Hospice and Palliative Medicine (AAHPM) and the Hospice and Palliative Nurse Association (HPNA)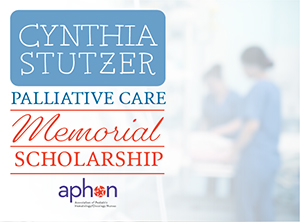 Cindy Stutzer, MS RN, passed away in May 2018 after a long and committed career in pediatric hematology, oncology, and stem cell transplant nursing, where she took exceptional care of both the patient and their families. She was also known for her commitment to educating and caring for nurses. She was a pioneer in integrating palliative care into pediatric hematology, oncology, and stem cell nursing. Cindy quietly and persistently said the words, walked the talk, and prepared the next generation of nurses to raise the palliative care banner and move it forward.
This scholarship is awarded annually to an APHON member that provides direct patient care at the bedside or in a clinical setting and is interested in furthering their education in palliative care nursing. 
Candidates for this scholarship must meet the following criteria:
Recipients of this scholarship will receive:
Recipients of the scholarship agree to submit a blog about the educational experience and how it affected their practice for use on the APHON website or in the APHON newsletter APHON Counts. Completed applications must be submitted by Wednesday, December 21, 2022.
Learn more about the AAHPM/HPNA Annual Assembly
2019 Recipient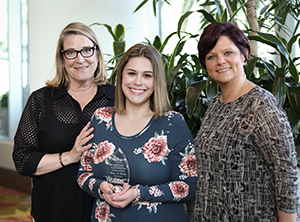 Hilary Holmes, BSN RN
Children's Hospital of Illinois
Hilary (center) received her award from APHON leader Kathy Perko (left) and HPNF Board Chair Denise Stahl (right).