Fellow of the Association of Pediatric Hematology/Oncology Nurses (FAPHON)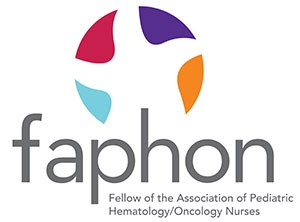 The FAPHON designation is a privilege that recognizes leadership and a visionary spirit that impacts APHON's culture and community.
The FAPHON designation is for nurses who have promoted and advanced the specialty of pediatric hematology/oncology nursing and epitomize the mission of APHON by supporting and advancing nurses in optimizing outcomes for children, adolescents, young adults, and their families throughout the continuum of care for their blood disorders and cancers.
APHON Fellows Strive to
Achieve APHON's vision that pediatric hematology/oncology nurses are setting, advocating for, and achieving the highest standards of care for children, adolescents, young adults, and their families.
Foster the future of pediatric hematology/oncology nursing.
Be leaders in clinical practice, education, research, management, advocacy, and policy.
Fulfill this honor through a continued commitment to both the specialty and APHON.
View Fellow Eligibility Criteria
To apply for the FAPHON designation, applicants must meet the following application criteria:
Be a licensed registered nurse.
At the time of application, the applicant must be a current APHON member and demonstrate evidence of continuous membership (no lapse exceeding 30 days and no more than one lapse in membership during the five years before application submission, regardless of the length of the lapse).
Have active participation in the association over the past five years.
Provide evidence of leadership with sustained professional contributions over the past five years in the field of pediatric hematology/oncology nursing.
Provide two letters of recommendation; one must be from an APHON member, and one must be from a professional peer familiar with your work and contributions. No one person may write more than two letters of support in a year for applicants. Current members of the APHON Board and members from the selecting committee are not eligible to serve as a reference.
Benefits of Being an APHON Fellow
Fellows in APHON will receive:
Option to present a general session at future Annual Conferences.
Will be listed as a Mentor in the Member Connection.
Profile in the networking directory will highlight areas of expertise.
Fellows will be invited to attend the President's Reception at the Annual Conference.
A Fellow badge on profile in the Member Connection.
Conference ribbon
A formal letter to their supervisor
Fellow pin
Newly inducted Fellows will be announced and presented to the membership during the Business Meeting held at the Annual Conference each year, recognized in APHON Counts, and listed as a Fellow in the Member Connection and on the website.
Learn more about becoming a FAPHON
How to Apply
All applications must be submitted through the online portal, Common Grant. You may begin the application at any time. The first step in the application process is to submit the pre-application, which informs us of your intent to submit a complete application. Your pre-application will be reviewed to ensure that you meet the membership eligibility requirement. Once approved, you will be given access to submit a complete application.
Common Grant will save your work as you progress through the application, allowing you to work on the application over an unlimited period. Applications may be submitted year-round. However, completed applications must be submitted by the last day of March to be considered for the current year of inductees (e.g., applications submitted on or before March 31, 2023, will be reviewed and considered for induction in 2023. Applications submitted on April 1, 2023, will be considered for induction in 2024).
Application Fee
A non-refundable fee of $250 is required. APHON staff will send an invoice to each applicant within 72 hours of the application submission. Applicants not selected may credit their application fee for a second application once within two years. The onus is on the applicant to reapply within the two-year window. Applications must be paid in full in order to be reviewed.